After molding these decorative aluminum plates are treated with a black carbon/oxide that then needs to be removed to create a striking, shadow effect.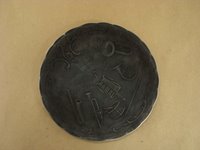 Before tumbling
While it might seem that an abrasive media with lots of corners (like a triangle or angle cut cylinder) would be best to remove the carbon, this part was vibratory tumbled with
Precision Ceramic Spheres
and
Kramco 1030
to remove the black coating from the high spots. This combination of round media and mild acid cleaner significantly enhanced the 3-dimensional effect desired by the customer.