Moisture Separator Features
A heavy-duty moisture separator that is designed to dry the air supplied by the compressor. These air line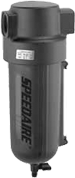 filters can handle up to 250 psi and 525 cfm air flow. The bowl will hold up to 32 ounces of liquid and
includes a site glass. The water is drained through a valve on the bottom of metal bowl. The Moisture Separator is attached to the pressure pot easily with a pipe nipple.
Pressure Regulator Advantages
This pressure regulator is designed to monitor and modify the air pressure inside the pressure pot. This upgrade will allow for more control over the actual blasting pressure at the nozzle. Pressure drops with long air hoses from the compressor can be found and adjusted to provide a consistent blasting pressure over time leading to more consistent blasting performance and results.
Media Screen Features
Media screens are available in two different sizes, these screens will separate debris from any media.
Keeping the media clean will prevent clogging nozzles from paint chips, rust and other particles. Longer lifetime of the media can be achieved by reusing abrasives. The screens can be placed on top of the concave top of the pressure pots. The Coarse Media Screen is ideal for 36 Mesh or 20/40 mesh and finer abrasives. The Fine Media Screen is designed for 60 Mesh or finer abrasives.
Metal Blasting Basket Features
The metal blasting basket is used for blasting small parts such as nuts and bolts. The basket will hold parts as small as 3/16" and allow blasting with media as large at 6 Mesh. The basket has a durable, metal handle for ease of use during blasting. The Metal Blasting Basket can be used with the Heavy Duty PPB Series, PPB Series and inside blasting cabinets.
Air-Fed Helmet Features
An Air-Fed Helmet affords use with full comfort and protection against abrasive ricochet and dust. Bears NIOSH approval number TC-19C-84. Helmets of this design are necessary for operations in blast cleaning rooms, inside of tanks and other confined areas and are required on many open-air operations of heavy duty and lengthy work periods to meet OSHA standards.
Made of refined, one-piece molded high-density polyethylene with special coated nylon cape for durability. Adjustable dihedral headband suspension affords user sizing range comfort. Hinged gasket-sealed vision frame affords maximum vision range with easy change of vision lens. Supplied with S-46-4 HP belt and brake valve assembly.
The 600HP Air-Fed Helmet is designed for use with the Air Line Filter and should be connected to a standard air compressor using the 3/8" Air Hose. We recommend using an electric compressor to ensure that no toxic gases are present in the air stream. If a gas or diesel compressor is being used, we highly recommend using the Carbon Monoxide Monitor as a safety precaution. As an alternative, the 600LP Air-Fed Helmet can be attached to the Oil-less Air Pump (using the 1/2" Air Hose) for a clean and safe air supply.