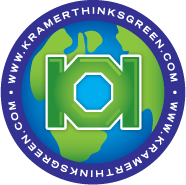 KramerThinksGreen is Kramer Industries, Inc.'s initiative to identify and promote products and applications that are friendly to the environment. Thinking about being Green is a process.  It is an evolution toward a limited pollution, recycled, sustainable and friendly treatment of our shared environment. Many of the products mentioned on this site have been used safely and effectively for many years. As knowledge has increased about how humans have affected the environment, we feel it is important to consider the full impact of what we do. KramerThinksGreen is our effort to consider alternative products and applications that perform as we require and improve our lives.
The KramerThinksGreen logo is positioned around the website to identify eligible products and applications that meet the following general criteria:
Product
A product is eligible for the KramerThinksGreen status if it has properties that have high re-usability, is sourced from renewable resources or can be recycled after being used. Products that are organic and sourced from renewable sources, such as Corn Cob Grit, or those made from a post-consumer, recycled product, such as Kramblast Crushed Glass Grit, qualify. Abrasive blasting equipment that allows for high recyclability of consumables and minimizes dust and energy usage is also eligible.
Applications
An application that increases the opportunity for creating a non-polluting, environmentally friendly result would qualify under the KramerThinksGreen initiative. For instance, Log Home Blasting using either Corn Cob Grit or Kramblast Crushed Glass Grit is considered eligible. In addition, applications that use water-based, biodegradable cleaners for cleaning, deburring or polishing are qualified.
Criteria
The list below provides some specific detail regarding why we believe the eligible KramerThinksGreen product or application noted meets the above criteria: