The PPB Series Portable Pressure Blast Systems are supplied with a number of standard accessories as well as various options and upgrades. All systems are supplied with an Air Fed Helmet set-up, Blast Nozzle and a Remote Control Handle (Machine Depressurization System). The Deluxe Packages also include a Moisture Separator, Pressure Regulator and Leather Blast Suit. Options such as the Media Screens, Metal Blasting Basket and Carbon Monoxide Monitor can be used with any model in the PPB Series.
Media Screens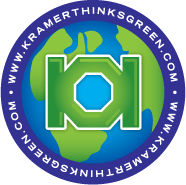 Screens separate debris from any media. Prevent clogging nozzles from paint chips, rust and other particles. Great for reusing abrasives. Fit on concave top of PPB Series pressure pots.
Coarse Media Screen
Ideal for 36 mesh or 20/40 mesh and finer abrasives.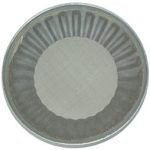 Fine Media Screen
: Ideal for 60 Mesh or finer abrasives.
Metal Blasting Basket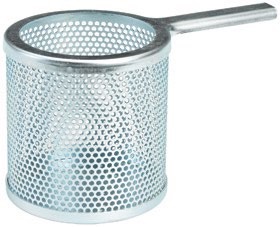 Used for blasting small parts such as nuts and bolts. Can be used with the PPB Series or inside blasting cabinets. The metal blasting basket is used for blasting small parts such as nuts and bolts. The basket will hold parts as small as 3/16" and allow blasting with media as large at 6 Mesh. The basket has a durable, metal handle for ease of use during blasting. The Metal Blasting Basket can be used with the Heavy Duty PPB Series, PPB Series and inside blasting cabinets.
Ceramic Nozzle
Additional nozzles available in 3/32", 1/8", 5/32", 3/16", 1/4", 7/32".
Blast Hose
Available in any length necessary – 10′, 15′, 25′ and 50′ most common.
Moisture Separator
Removes moisture from incoming air. Standard with KF150DM and larger systems.
Air-Fed Helmet
Affords use with full comfort and protection against abrasive ricochet and dust. Bears NIOSH approval number TC-19C-84. Helmets of this design are necessary for operations in blast cleaning rooms, inside of tanks and other confined areas and are required on many open-air operations of heavy duty and lengthy work periods to meet OSHA standards.
The 600HP air-fed helmet is designed for use with the air line filter and should be connected to a standard air compressor using the 3/8" air hose. We recommend using an electric compressor to ensure that no toxic gases are present in the air stream. If a gas or diesel compressor is being used, we highly recommend using the carbon monoxide monitor as a safety precaution. The 600LP air-fed helmet can be attached to the oil-less air pump (using the 1/2" air hose) for a clean and safe air supply.
Compressed Air Line Filter Assembly
Type "A" air line filter assembly provides clean breathing air to the user because it removes dusts, moisture, oil, fumes and scale from compressed air. Meets ASME Code requirements. Its component compounds are entirely separate from the water and oil condensation changer to prolong the life of the replaceable filtering compound unit. Type "A" air line filter assembly is recommended for all air supplied helmets and has a capacity to afford clean breathing air to as many as six helmets.
Caution: Compressed Air Line Filters do not remove carbon monoxide.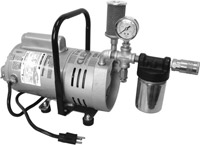 Oil-less Air Pumps
Oil-less air pump is available for one operator with a 3/4 HP electric motor. This air pump is designed for NIOSH approved air supplied helmets that operate at 10 psi or less. The inlet must be placed in a clean, breathable location, free from exhausts, fumes and dust. The air pump will not remove carbon monoxide or toxic gases from incoming air pumps to the helmets. The air pump requires a 110-115V, 60Hz, 14 amp power supply and has an air outflow of 9 cfm at 10 psi. The 600LP air supplied helmet used with the air pump and is connected using the 1/2" air hose. No compressor is necessary when using the oil-less air pump and 600LP air supplied helmet.
Carbon Monoxide Monitor
The ISA-34RAL respiratory air line CO monitor/alarm automatically and continuously monitors respiratory air lines for carbon monoxide levels and provides audible and visual alarms when the air line CO concentration rises above a preset limit. When the level of CO in the air passing the sensor increases to the preset value, the equipment alarms and relays activate. The preset calibration level may be as low as 20 PPM. The equipment operates from either 117 VAC or 12 VDC, at the option of the user, with terminals for either mode of operation located on a barrier strip inside the unit. Due to its electronic voltage regulation, the ISA-34RAL maintains precision gas calibration despite input voltage variations as great as -10% to +20% of rated supply (either AC or DC).