EVB Series – Heavy-Duty Grade, Bowl-Style, Floor Model, Vibratory Tumbler
Volume Pricing & Wholesale Discounts Available
The EVB Series bowl-style vibratory tumblers are compact, floor-model systems. These heavy-duty tumblers are designed for production environments where large quantities of parts need to be finished. The screen deck provides automated separation of media and parts.
EVB Series – Heavy-Duty Grade, Bowl-Style, Floor Model, Vibratory Tumbler
The EVB Series Heavy-Duty Grade, Bowl-Style,  Floor Model, Vibratory Tumble is a compact, state-of-the-art, bowl style vibratory systems. These tumblers feature, heavy-duty motors and are designed for high volume usage. Available in multiple capacities and with a wide variety of options and upgrades for deburring and polishing. The extended screen deck provides quick and easy separation of the parts and media.
Benefits
Bowl Shape Rolls Load for Efficient Finishing
Wet or Dry Processing
Heavy-Gauge Steel for Durability
High Durometer Polyurethane Lined
High Amplitude for Efficient Processing
Manual Hand Dam Control
Extended Screen Deck for Media/Parts Separation
Can be used with Steel Tumbling Media (standard on systems up to EVB-2400)
Applications
Deburring
Polishing
Burnishing
Cleaning and Rust Removal
Scale Removal
Typical Uses
Full Scale, Production Environments
Large Quantity Smaller Parts Tumbling
Deburring of Stamped Parts
Oil and Water Removal From Parts
Specifications
EVB Series – Heavy-Duty Grade, Mini-Bowl Style, Vibratory Tumblers Specifications

EVB Series Model Specifications

Model

Working Capacity ( ft³)

Bowl Diameter

Channel Width

Motor HP

Full Load Amps @480V

Floor Space Required

EVB-380

4
38"
9.5"
3
4
4' x 4'

EVB-700

7.5
50"
11"
5
6
5' x 5'

EVB-1000

10
55"
13.5"
7.5
10
5' x 5'

EVB-1300

14
62"
15"
7.5
10
6' x 6'

EVB-1900

20
70"
17"
15
20
6.5' x 6.5'

EVB-2400

25
74"
19"
15
20
7' x 7'

EVB-3600

36
92"
20"
20
27
8' x 8'

EVB-5000

52
100"
22"
20
27
9' x 9'

EVB-9200

95
124"
28"
30
38
11' x 11'

Options & Upgrades

  (Available on most models)

Separating Screen Deck (may reduce stated Working Capacity)
NEMA 101 Control Panel
Compound Metering System
Media Unload Plug
Pneumatic Gate
Auto Grease System
Sound Cover – Vinyl (with optional winch) and Rigid Sound Hood
Variable Speed Drive
Automated Unload
Gate Clearing
Settling Tank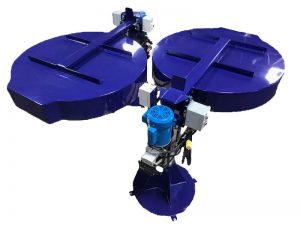 Rigid Sound Hood
EVB-380 Vibratory Tumbler
EVB-380 Motor and Media Unload Plug
EVB-380 Lining and Solution Reservoir
EVB-380 Hand Dam Control
EVB-380 Separating Screen Deck
EVB-380 Full View
EVB-700 Front
EVB-700 Motor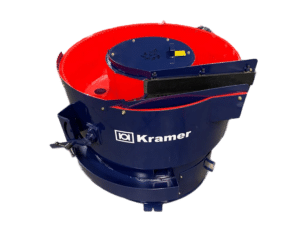 EVB-700 Screen Deck