SS Series – Industrial Grade, Suction Style, Abrasive Blasting Cabinet System
The SS Series, Industrial Suction Sandblaster Cabinet is the most economical and commonly used blast cabinet. Designed for small shops and light production areas, the siphon/suction systems are ideal for quick blasting and surface prep. The SS Series can be used with all types of dry abrasive blast media.
SS Series- Industrial Suction Sandblaster Cabinet System for Cost Effective Cleaning & Etching
The SS Series cabinet blasting systems are ideal for industrial applications and when a quick blasting project is required. The suction (or siphon) style systems are economical and easy to use. The wide variety of cabinet sizes are available to fit any shop and part size and any budget. These systems can be used with almost any dry abrasive blast systems.
Benefits
Industrial Grade Construction
Side Doors and Flip Tops for Easy Access to Parts
Adjustable Pressure Valve
Air and Abrasive Mixed at 2:1 Ratio for Optimal Blasting
Media is Recycled to Reduce Operational Costs
All Systems Supplied with a Dust Collector
Optional Abrasive Separator to Clean Media Prior to Re-Blasting
Usable with Nearly All Dry Abrasive Blasting Media
Applications
Paint Stripping
Surface Preparation
Scale Removal
Etching
Peening
Cleaning
Typical Uses
Machining Mark Removal
Surface Preparation for Coating
Parts Cleaning
Rust Removal
Decorative Etching
Specifications
SS Series Specifications
SS Series Components & Features

Cabinet

Tapered Media Hopper with Bottom Trap Door for Easy Disposal of Spent Media
Top & Side Loading Doors on Most Models
14-Gauge Welded Steel Construction
8" Armholes on All Models 40" x 40" and Larger
MM Models Have a Double Floor - 1

/

8

" Steel Plus Carbon Screen

Window

Easy Change Window Frame
Safety Glass Windows for Excellent Visibility and Increased Efficiency

Lighting

SM Models Have Incandescent Lighting
MM Models Have Fluorescent Interior Lighting to Eliminate Shadows and Minimize Energy Consumption

Gloves

Heavyweight Rubber Gloves (Neoprene Gloves Optional) Built Into Front of Cabinet

Gun System

Tungsten Carbide Nozzle
Model SM20B: 1

/

4

" ID Nozzle and 1

/

8

" Air Jet and Gun (12 CFM).
Models SM24C and SM30C: 5

/

16

" ID Nozzle and 1

/

8

" Air Jet and Gun (12 CFM).
All MM Models: 5

/

16

" ID Nozzle and 5

/

32

" Air Jet and Gun (25 CFM).
Safety Enclosed Foot Valve Blasting Control

Dust Collector

All Models Except SM20B Include a BP Dust Collector That Vacuums Dust and Contamination From the Cabinet
SM20B Includes a 100 CFM Dust Collector
BP Dust Collector Measures 571

/

2

" High and 14" in Diameter
Separates Broken-Down Abrasives
Self-Cleaning Bag

Air Pressure Gauge

Included With All MM Models; Optional With All SM Models

Electrical

115 Volt, 1 Phase, 60 Cycle Motor

Optional Accessories

Abrasive Separators Available in 300, 450 and 600 CFM. Retrofit Packages Are Also Available. Refer to Abrasive Separator Specifications For More Information
Upgraded Dust Collectors Available - Models Include Deluxe, 400PT and 800PT. Refer to Dust Collector Specifications for More Information

Work Stand

(24" High With Swing-Up Shelf and Slide Out Tray) Available for Model SM20B

Air Pressure Regulator and Gauge

 Available on All SM models (Included with MM Models)

Water Filter

 Available on All Models

Blow Off Gun

 Available on All Models

Auto Power Basket

 Available on All Models; Retrofit Package Also Available; 8" x 8" Basket, 8" x 12" Basket, or 12" x 12" Basket, Available With or Without Timer

Air Cylinder

 For Power-Assisted Opening and Closing of Larger Split-Level Models

Spare Parts Package

 Available For All Models

Turntable - Manual

 , 300 lb. or 2,000 lb. Capacity (Cabinet Floor Must be Reinforced if Loads of 1,000 lbs. or More Are Anticipated) - Available in 18", 26" and 36" Diameter
Deluxe Packages
Deluxe Packages Are Available on MM3624C and Larger Models which include:
Abrasive Separator
Enclosed Dust Collector
16 Tubular Filter Bags
Water Filter
Air Vibrator
Blow Off Gun
450 CFM Abrasive Separator on SM3624C, MM4824C, MM4224S and MM4824S
600 CFM Abrasive Separator on MM4040S, MM4836C, MM6024S, MM4848S, MM6048S, MM7248S and MM9648S
SS Series Model Components & Features

Model

Style

Dimensions

(Width x Height x Depth)

Doors

Windows

Features

SM20B

Bench

Inside:


20" x 18" x 18"


Overall:


21" x 381

/

2

" x 33"
One 20" x 13" Front-Opening Lid
One
18" x 10"

SM24C

Cabinet

Inside:


24" x 23" x 18"


Overall:


26" x 62" x 18"
One 24" x 15" Front-Opening Lid
One
191

/

2

" x 12"

SM30C

Cabinet

Inside:


30" x 23" x 20"


Overall:


32" x 62" x 20"
One 30" x 13" Front-Opening Lid
One
191

/

2

" x 12"

Carbon Screen Work Floor
BP Dust Collector Included

MM3624C

Cabinet

Inside:


36" x 23" x 24"


Overall:


38" x 64" x 25"
One 36" x 13" Front-Opening Lid and One 17" x 11" Side Door
One
12" x 24"

MM4040S

Split-Level Cabinet

Inside:


40" x 31" x 40"


Overall:


45" x 71" x 66" Closed / 71" Open
One 40" x 40" Flip-Top Lid and One 20" x 30" Side Door
One
12" x 24"

Standard With BP Dust Collector. PT (pull-through) Dust Collector or Abrasive Separator Optional
Includes Neoprene Gloves
Deluxe Package Available

MM4224S

Split-Level Cabinet

Inside:


42" x 24" x 24"


Overall:


70" x 65" x 38" Closed / 50" Open
One 42" x 24" Flip-Top Lid and One 11" x 11" Side Door
One
12" x 24"

Standard With BP Dust Collector. PT (pull-through) Dust Collector or Abrasive Separator Optional
MM4230S Also Available
Deluxe Package Available

MM4824C

Cabinet

Inside:


48" x 23" x 24"


Overall:


52" x 64" x 25"
One 48" x 13" Front-Opening Lid and Two 17" x 16" Side Doors
One
12" x 24"

Standard With BP Dust Collector. PT (pull-through) Dust Collector or Abrasive Separator Optional
Deluxe Package Available

MM4824S

Split-Level Cabinet

Inside:


48" x 24" x 24"


Overall:


53" x 65" x 38" Closed / 50" Open
One 48" x 24" Flip-Top Lid and One 11" x 11" Side Door
One
12" x 24"

Standard With BP Dust Collector. PT (pull-through) Dust Collector or Abrasive Separator Optional
Deluxe Package Available

MM4836C

Cabinet

Inside:


48" x 36" x 36"


Overall:


53" x 78" x 37"
Two 28" x 30" Side Doors
One
12" x 24"

Standard With BP Dust Collector. PT (pull-through) Dust Collector or Abrasive Separator Optional
Deluxe Package Available

MM4848S

Split-Level Cabinet

Inside:


48" x 31" x 48"


Overall:


53" x 71" x 74" Closed / 77" Open
One 48" x 48" Flip-Top Lid and One 20" x 36" Side Door
One
12" x 24"

Standard With BP Dust Collector. PT (pull-through) Dust Collector or Abrasive Separator Optional
Deluxe Package Available

MM6024S

Split-Level Cabinet

Inside:


60" x 24" x 24"


Overall:


65" x 65" x 38" Closed / 50" Open
One 60" x 24" Flip-Top Lid and One 17" x 16" Side Door
One
12" x 24"

Two Work Stations
Standard With BP Dust Collector. PT (pull-through) Dust Collector or Abrasive Separator Optional
Deluxe Package Available

MM6048S

Split-Level Cabinet

Inside:


60" x 31" x 48"


Overall:


65" x 71" x 74" Closed / 77" Open
One 60" x 48" Flip-Top Lid and One 20" x 36" Side Door
Two
12" x 24"

Two Work Stations
Standard With BP Dust Collector. PT (pull-through) Dust Collector or Abrasive Separator Optional
Includes Neoprene Gloves
Deluxe Package Available

MM7248S

Split-Level Cabinet

Inside:


72" x 31" x 48"


Overall:


77" x 71" x 74" Closed / 77" Open
One 72" x 48" Flip-Top Lid and One 20" x 36" Side Door
Two
12" x 24"

Two Work Stations
Standard With BP Dust Collector. PT (pull-through) Dust Collector or Abrasive Separator Optional
Includes Neoprene Gloves
Deluxe Package Available

MM9648S

Split-Level Cabinet

Inside:


96" x 31" x 48"


Overall:


101" x 71" x 74" Closed / 77" Open
One 96" x 48" Flip-Top Lid and One 20" x 36" Side Door
Two
12" x 24"

Jumbo Split-Level For Very Large Parts
Two Work Stations
Standard With BP Dust Collector. PT (pull-through) Dust Collector or Abrasive Separator Optional
Includes Neoprene Gloves
Deluxe Package Available
Additional Information
| | |
| --- | --- |
| Selected Package Gross Weight | 1000 lbs |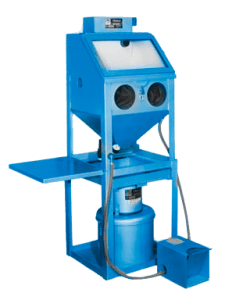 SM20B shown with 100 CFM Dust Collector and optional work stand
SM24C shown with BP Dust Collector
SM30C shown with BP Dust Collector
MM3624C shown with BP Dust Collector
MM4040S shown with BP Dust Collector
MM4224S shown with optional Abrasive Separator and Filter Bag
MM4824C shown with BP Dust Collector
MM4824S shown with BP Dust Collector
MM4836C shown with BP Dust Collector
MM4848S shown with 600 CFM Abrasive Separator and Enclosed Dust Collector (Deluxe Package)
MM6024S shown with optional 600 CFM Abrasive Separator and Filter Bag
MM6048S shown with dual BP Dust Collectors
MM7248S shown with dual BP Dust Collectors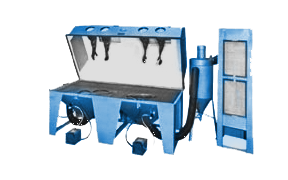 MM9648S shown with 600 CFM Abrasive Separator and Enclosed Dust Collector Note: actual model may vary from above picture