Venturi Blast Nozzle Features
The Venturi blast nozzles in a suction system allow high velocity air pressure to pass over the abrasive feeder line, which sucks the abrasive through the smaller hose and combines it with air pressure at the back of a nozzle. The gun nozzle is a tapered smaller orifice that speeds up the combined flow and sprays out the abrasive in a relatively narrow or fixed pattern of discharge. The SLV series nozzles are our latest design of high production blast nozzles. These nozzles are manufactured with a one-piece sintered tungsten carbide liner for extended production life. The liner also allows for slow and even wear throughout the life of the nozzle.
Advantages of a Venturi Blast Nozzle
A new combination of aluminum and polyurethane adds proven advantages in weight balance, strength and shock absorbent features not found in metal cased nozzles. The long venture design will maximize production requirements as well as give added abrasive impact when needed for tough, hard to clean surfaces.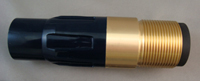 Venturi Blast Nozzle Specifications

Model

Bore Size

Length

Thread Size

Air Required
per Minute

(ft3)

Nozzle Holder Series

SLV-4
1

/

4

"
41

/

4

"
11

/

4

"
male
straight
pipe
thread
94
TH-125-KF-20
SLV-5
5

/

16

"
51

/

4

"
146
TH-125-KF-20
SLV-6
3

/

8

"
61

/

4

"
211
TH-125-KF-20
SLV-7
7

/

16

"
71

/

4

"
286
TH-125-KF-20
SLV-8
1

/

2

"
81

/

4

"
376
TH-125-KF-20