Distributor and Reseller of
Vibra Finish Company
Kramer Industries is the authorized distributor and reseller of VibraHone vibratory finishing equipment for Vibra Finish Company. Vibra Finish vibratory bowls are state of the art finishing systems that are available in capacities from 1 cubic foot up to 20 cubic feet.
Vibra Finish FCV-ULE-2 Series
The FCV-ULE-2 vibratory bowl series are available in three sizes: 3, 5.3 and 10.6 cubic feet. All of these systems are built with heavy duty motors, rugged polyurethane liners and elevated screen decks for easy separation of the media and parts. The curved wall design and low profile increase operating efficiency and reduce down time leading to overall increased productivity. Details for these systems can be found on the VH-ULE Large Bowl Vibratory Tumbler Series page.
The FCV-ULE-2 vibratory bowl systems are also available with sound covers. These covers will dampen the sound from the tumbling process. These models have capacities of 5, 10, 15 and 20 cubic feet. Details are located on the VH-ULN Large Bowl Vibratory Tumbler Series page.
Trinco™ Tumble Blast Cabinets
Trinity Tool also manufactures a series of semi-automated Tumble Blast Cabinets. These systems are designed for high volume blasting of smaller parts. The parts are placed in the tumbling barrel which then slowly rotates under the fixed blast gun exposing all areas of the part to the blast stream. The 14″ x 12″ and 24″ x 24″ basket sizes allow for a range of batch size tumbling for effective processing. These tumble baskets can also be included or retro-fit into both the Suction System and Direct Pressure blast cabinets. Details for this series are found on the TB Series page.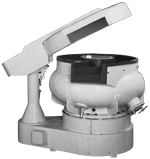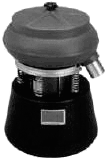 As an authorized distributor and reseller of Vibra Finish VibraHone vibratory finishing equipment, please contact us to help you choose the right vibratory tumbler to meet your needs.