Burnishing silverware is an economical solution to repairing the nicks, scratches and scrapes developed by daily use in the restaurant business. Commercial burnishing systems will extend the life of your tableware, restore the beauty and shine, and extend the life of the silverware.
How Do Commercial Silverware Burnishing Machines Work?
Commercial burnishing systems are referred to as barrel tumbling systems, in that the actual device is a hexagonal-shaped barrel and, during use, there is a tumbling motion. The shape of the barrel causes the tumbling media to cascade or roll and meld into the nicks and light scratches of the silverware. When completed, the silverware is sparkling, shiny and nearly as smooth as new.
You will need the following items for silverware burnishing:
Commercial barrel finishing system
There are a variety of sizes and options available in commercial silverware burnishing machines. The Kramer Industries K Series and K14 Series barrel finishing systems are excellent heavy-duty barrel tumbling machines designed specifically for commercial and industrial use. The K14 Series barrel finishing system is a bench or tabletop model and the K Series is the larger floor-model size.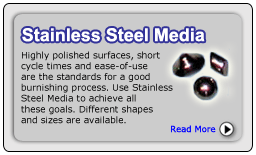 Stainless steel shot is the recommended tumbling media used in silverware burnishing systems. It is aggressive for faster processes because the particles are substantially heavier than other media, exerting added pressure and increased resistance which reduces finishing time. Using Stainless steel shot versus plain steel media eliminates the need for rust inhibitors. Added polishing compounds burnish the finish of the silverware and tableware. Kramco 910 burnishing compound adds the final brightness and shine during the silverware repair and restoration process.
Commercial Uses for Silverware Burnishing Machines
Repair and restore flatware and hollowware
Repair and restore metal serving dishes
Repair and restore metal tableware
Polish silverware, flatware, hollowware and tableware
Do not place dissimilar pieces together in the barrel tumbling machine; it could cause scratches and marring of the items. When loading pieces into the burnishing machine, do not put hollowware in the barrel finishing machine in the same compartment with flatware or tableware.
The size of the burnishing system to purchase will depend solely upon the amount of traffic your restaurant has on a daily basis and your hours of operation. You will need to determine the number of times the silverware is used, washed and reused each day in order to calculate the barrel tumbling capacity needed, as well as the amount of stainless steel media to have in storage. It is common to run the silverware or flatware through the burnishing process after 25 to 50 uses.
Purchasing a commercial silverware burnishing system is a sound business investment for a restaurant and will improve customer service, appearance and presentation.