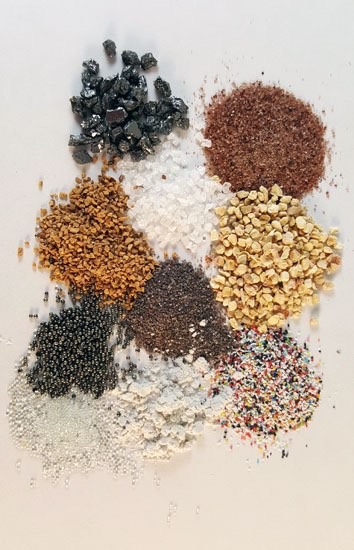 ABRASIVE MEDIA FOR SANDBLASTING EQUIPMENT
Abrasive media for sandblasting equipment is used for a wide variety of applications including sand blasting, tumble deburring, polishing, and other surface finish processes. As a wide range abrasive finishing company, many media are available in a wide range of types, hardness, grit and mesh sizes, and abrasiveness.
Types
Heavy Abrasives for High Cutting Action
Organic Media for Polishing and Light Abrasiveness
Soft Media for Protection of Substrates During Blasting
Multiple Grit/Mesh Sizes in Every Media Type
Reusable Media With Long Usable Lifetimes
Consumable and Affordable Blasting Media
Applications
Cleaning
Paint and Coating Striping
Deflashing
Removing Machine Marks
Sanding
Edge Rounding
Scale and/or Rust Removal
Non-Skid Coatings
Typical Uses
Machine Mark Removal
Rust Removal and Cleaning
Surface Finish Modification
Abrasive Blasting for Coatings Preparation
Polishing in Tumbling Applications
Abrasion Resistance in Coatings
Creating Specific Surface Finishes
All media blasting techniques work according to a basic concept: small moving particles collide with a surface at high speed and remove surface particles or etch or peen the surface itself. Specific blasting media vary dramatically in terms of their intended purpose and method. One use of sandblasting media is to remove impurities prepare the surface in advance of paint or coating application.
Most abrasive finishing companies originally made use exclusively of silica particles for Sandblasting . Still, as research uncovered health risks associated with long-term exposure to the dust created by silica blasting, alternative media were developed abrasive finishing company. These abrasive blasting media, while minimizing health risks, were also discovered to outperform silica media in many applications.
Choosing the right abrasive blast media and the right abrasive finishing company is essential to finish surface preparation for paint or coating application. The following media types are available with various applications according to their hardness, size and abrasiveness.