DB Series – Industrial Grade, Tub-Style, Floor Model, Vibratory Tumbler
Volume Pricing & Wholesale Discounts Available
The DB Series is ideal for shorter cycle times and for those new to mass finishing.  Two different sizes are available for large and small batch sizes. Economical and durable, the DB Series are one of our most popular vibratory tumblers.
DB Series – Industrial Grade, Tub-Style, Floor Model, Vibratory Tumbler
The DB Series vibratory finishing machines are designed as regular use tub vibrators. These finishing system machines make great "starter" machines for those unfamiliar with mass finishing or on a limited budget. The vibratory tumbler is typically used for deburring and polishing operations.
Features
A DB Series vibratory finishing machine is constructed of heavy-gauge steel and rust-preventive enamel paint. Each of the tub vibrators are lined with durable polyurethane. All systems come equipped with a complete fluid recirculating system. A variety of optional Tubular Rotary Separator Attachments can be easily attached to the DB tub outlet.
Benefits
Economical and Easy to Use
Wet or Dry Processing
Heavy-Gauge Steel for Durability
High Durometer Polyurethane Lined
Compact, Small Footprint
Compound Recirculating System Included
Short and Long Cycle Time Applications
Tub-Style Allows for Tumbling Longer Parts
Applications
Deburring
Polishing
Burnishing
Cleaning and Rust Removal
Scale Removal
Typical Uses
Small Batch Production Runs
Cellular Manufacturing
Quick Parts Testing
Scale-Up Production
How Vibratory Deburring Equipment Delivers a Magnificent Finish
We do know that Vibratory Finishing machines come in three different patterns – round bowls, tubs, and continuous feed. Round bowl mechanisms will do excellent work on gentle cleaning, tubs are ideal for parts that require a soft touch, and constant feed machines are more suited to high-output products like castings and forgings that are durable and meant to feed through quickly.
A typical deburring machine used for mass finishing parts is a vibratory deburring machine, or vibratory tumbler, which utilizes abrasive media to deburr, clean, or polish, parts.
Vibratory polishing machines come in three main styles — round bowls, tubs, and continuous thru-feed, with each having its advantage — depending on your requirements.
Vibratory polishing machines are used in both bowl and tub styles for deburring, surface finishing, burnishing, washing/cleaning, pre-plate finishing, polishing, drying, and polishing. Call us today to discuss your specific requirements.
DB Series Specifications
DB Series Model Specifications

DB Series Components & Features

Model

DB300

DB650

Inside Tank

Dimensions

(L x W x D)

31″ x 131

/

2

" x 13″
35″ x 18″ x 183

/

4

"

Capacity

3.0 ft³
6.5 ft³

Motor

1 HP, 1 Phase,
110 Volt @ 60Hz, 12.2 FLA
or
220 Volt @ 60Hz, 6.2 FLA
3 HP, 3 Phase,
230 Volt @ 60Hz, 8.8 FLA
or
440 Volt @ 60Hz, 4.4 FLA

Options

Available in 220 Volt @ 50Hz.
Tub Divider (See Below)

Features

5″ Round Discharge Door, With Discharge Trough
Heavy-Gauge Steel Construction Coated With Rust-Preventive Enamel Paint.
Sound Reduction Cover
Anchor Bolts
Polyurethane Liner Made From the Finest Quality Material Available and Oven Cured
Complete Fluid Circulation/Recirculation System Including Pump, Fluid Container and All Necessary Hoses and Fittings
DB300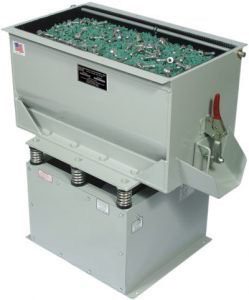 DB650