Having effective and efficient blasting equipment is a necessity for any auto and truck restoration project. Both commercial operations and basic DIY car and truck enthusiasts recognize the value of a well restored vehicle.
Pressure Blasting vs. Hand Sanding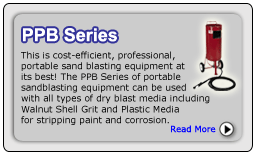 Both abrasive blasting and hand sanding have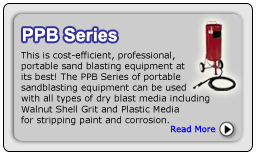 a place and purpose in auto and truck restoration. Advantages of pressure blasting instead of hand sanding include:
Time and labor savings
Removal of pits and rust spots
Cleaning of engine parts
Accessing hard to reach areas
Removal of road grime and gunk from the undercarriage
Pressure blasting is typically used for large areas, hard to reach places, and when hand sanding would require an excessive amount of work and time.
Classic Car Restoration Equipment and Application
Regardless of the reason for blasting, there is a basic equipment list needed to tackle any old car or truck restoration project:
Portable Pressure Blast machine
Protective clothing, gloves, goggles, mask
Wire brush
Scraping tools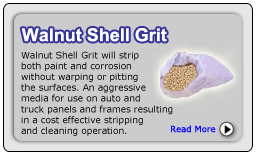 The most important component is the blasting system itself. The capacity and duration of blasting time will depend on the project. If doing a frame-off restoration that includes cleaning the frame and all component pieces, a blasting system with a higher capacity like the PPB Series Model KF300DM or KF300R is preferred. If the vehicle restoration project is the frame-on method or the project requires general sand blasting to clean off the visible areas, then the PPB Model KF150DM will handle the job nicely.
The type of media to use will depend upon what particular areas are being blasted and the desired results. Walnut shell grit, plastic abrasives and glass beads each offer different finishing characteristics. All of these blasting media come in various grit sizes so be sure to use the proper size and type to get the desired results for your restoration project.
How to Use a Pressure Blaster
When using portable pressure blast equipment for auto and truck restoration, be careful to use an even, steady pattern when blasting the metal. A smooth, constantly moving pattern will minimize the risk of warping or possibly blasting through the panels. Multiple passes over a particularly difficult area are preferable to a more aggressive blast.
With auto and truck restoration, the finished project will only be as good as the time and effort taken to prep the vehicle. Blasting away the old dirt, debris and rust will assure the restored vehicle looks as good as it did on the show room floor.