A swimming pool requires a lot of patience, knowledge, care, maintenance and regular cleaning. Part of this involves blasting the tile and deck area of your pool. Pool tile cleaning is an efficient and effective way to remove calcium and mineral deposits on the tile edging. In addition, the deck area will also benefit from being blast cleaned regularly.
Blasting vs. Chemicals and Scrubbing
Pool tile blasting is a safe and effective technique to completely remove the calcium and scale deposits on pool tile and to clean the deck area. The results are far better than using harsh acids, which take more time to remove the scale and will often result in greater overall maintenance and care, and allows for getting back in the pool in less time.
How to Go About Blasting with Glass Beads and Walnut Shell Grit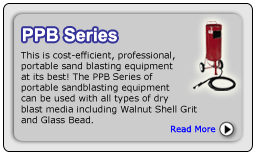 For cleaning pool tile and deck areas, select a small high-quality portable blasting system, such as the PPB Series KF150DM. When selecting media, choose glass beads to clean the pool tile and walnut shell grit to blast the deck.
Glass beads will not harm the tile or the glaze and will leave a clean, scale-free finish. After blasting with glass beads, the beads will sink to the pool bottom, where the cleaning skimmer can pick them up during the next cleaning cycle.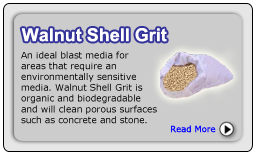 Blasting the entire pool deck is necessary to remove dirt and debris that will cause the surface to become slick and slippery. Walnut shells are the preferred media for deck cleaning because they are soft, organic and will not damage wood, pebble-topped cement or tile. Walnut shells are also biodegradable, eliminating the hazards from disposal.
The quantity of glass beads and walnut shells necessary to blast clean pool tiles depends upon the size of the area to be cleaned. More regular cleaning will allow for less media use since it is much easier to clean thinner layers of scale or dirt than heavy, built-up residue.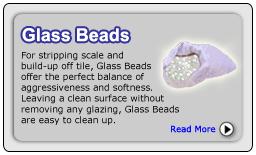 Be sure to wear gloves, goggles and protective clothing when using a blasting system. Make sure everyone is out of the pool and off the deck prior to starting blasting, including pets.
For its ease and quickness, pool blasting with blasting media is much safer and more efficient than chemical treatments. Keeping the pool tile and deck area clean by blasting periodically not only helps maintain a pool, but also increases its longevity.